O U R   F A V O R I T E   H I K E S
The High Country is home to thousands of trails and breathtaking views. For experienced hikers and newcomers, Boone offers adventure for all. We've compiled some of our favorite adventures here. 
Need more hiking suggestions? Stop in the store for a FREE MAP and to hear about our favorite trails. 
Green Knob Trail: 2.3 mi, loop
This 2.3-mile trail is one of the best short hikes in the area, featuring a variety of terrain packed into a moderately strenuous 2.3 miles. We recommend going counter-clockwise and starting from the Sim's Pond overlook. The trailhead is located off the Blue Ridge Parkway at MP 295.7. Hike through rhododendron tunnels, several creek crossings and tiny waterfalls. You also get to hike through a beautiful pasture as the trail winds to the top of Green Knob, following the creek bed on the way back. Spot the view of Grandfather Mountain at the top!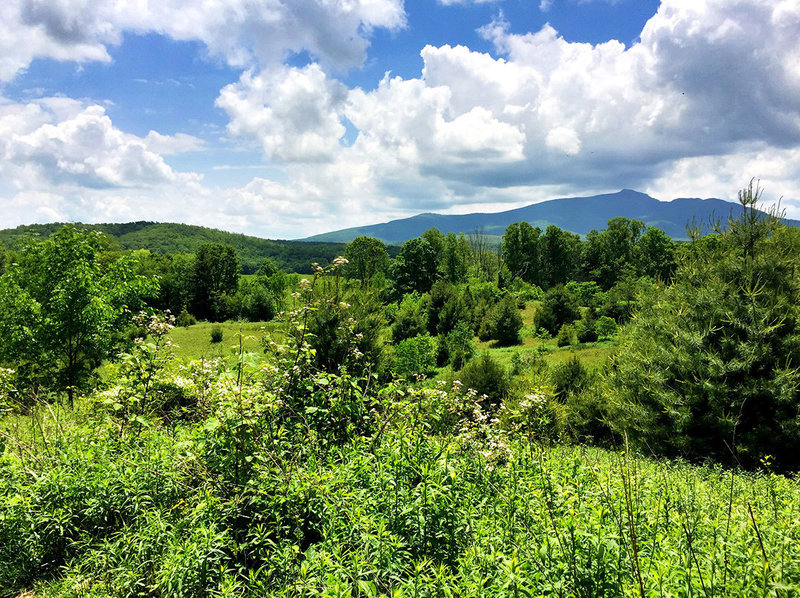 Rough Ridge: 1.2 mi, loop
Hop on the Tanawha Trail along the Blue Ridge Parkway for amazing views atop Rough Ridge. The hike is 1.2 miles round trip starting at the Rough Ridge parking area. Hike through soggy evergreen forests and up stone steps to wonderful views of Grandfather and Mount Mitchell. The boardwalk is built to protect fragile vegetation. This short hike is an absolute must-do in the High Country. It is not strenuous, but be careful on the rocks! 
Rich Mountain Carriage Trail: 6.2 mi, out & back
The carriage trails in Moses Cone are great for family hikes and those who appreciate a wide, gravel trail that's easy to navigate. This beauty winds up the hillside through pastures and the forest, and includes views alongside Trout Lake. The hike is about 6.2 miles and summits at the top of Rich Mountain featuring a grassy knob perfect for picnics. It's a peaceful, quiet trail. Watch out for cow pies! 
Pictures: romanticasheville.com, seesugar.com, hikingproject.com